Over 1,000 acres of Privately-Owned Prime Nebraska Hunting Land
Managed exclusively for wildlife with grassland, hedgerows and timber, we feature a clay shooting range and managed food plots.
Beautiful Lodging for Your Nebraska Hunting Trip
The Cedar Lodge is another hand-built project from the Rogge family used for a variety of events.
Hunters come from all over to hunt on the 1000+ acres of land surrounding the lodge. Hunting retreats a favorite among the boys in the family.
For the women, you may find them locked in quilting the night away! We've held many a quilting retreat in the lodge. It's a great time to get away from everything, focus and spend some good quality time with friends and family.
The lodge is used and open for any type of weekend getaway. With plenty of room for the whole family, and then some, staying the weekend surrounded by beautiful Nebraska prairie land is the perfect dose of relaxation and fun. It's a great time to get away, no matter what the occasion, and to spend some quality time with friends and family.
Lodge Amenities
Full Kitchen/Dining Room
6 Bedrooms on the Main floor, 2 Bedrooms on the Upper Level. (Two rooms with queen-sized beds, three rooms with a twin-sized bed and a full-sized bed, the rest of the rooms have twin sized-beds)
2 Full Bathrooms
28′ x 30′ Great Room with a Big Screen TV, Satellite, Couches and Chairs.
Free Wi-fi
As our guest at Cedar Lodge, you will experience unique dining, successful hunting, and leave your Nebraska hunt with a host of new friends! You'll want to return again and again and we look forward to having you as our guest.
Mike, Jennifer and the Rogge Family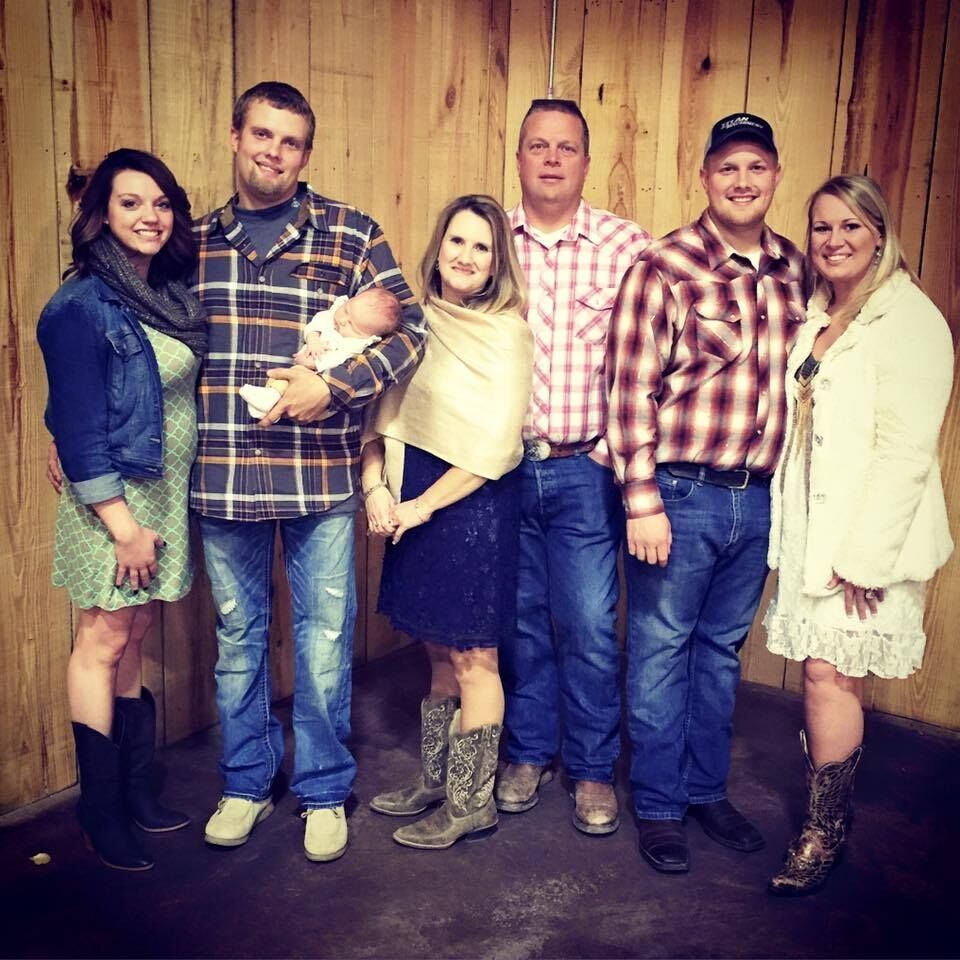 Mike and Jennifer met in 1986 in Blair, Nebraska and got married on September 10, 1988.  After they were married they bought a small farm near Humboldt, Nebraska where they have resided since 1994.
They have two sons, Andrew and Garrett.  Mike is a farmer, a rancher and helps Andrew with his construction business. Jennifer is a registered nurse at a local hospital.
Recently they've expanded their family with the addition of their second daughter-in-law Paige and their first grandchild, Emma Grace.
Along with the lodge, there also sits the hand-built Cedar Prairie Barn. The barn and lodge are used for weddings, hunting retreats, weekend getaways and family time. Both are big enough to hold just about everyone in your family.
All this sits on the Rogge's 1,080 acres of Nebraska prairie land. The most beautiful sunsets, star filled skys and family tradition make up this land. Along with a large pond and plenty of cattle…
It doesn't get much more country than this.
The Rogge's love company and welcome anyone to come out and have a good time. That's why they've built these venues. They understand the values of family, friends and making memories. This is the reason they share their land.